There are a lot of restaurants and bars in Scottsdale, Arizona, but none compare to Hi Fi Kitchen & Cocktails. Whether you're looking for a happy hour in Scottsdale worth your time, a nice dining spot, or a taste of the Scottsdale nightlife, you'll find it all at Hi Fi. 
We are very excited to share our very first blog post with you! If you've dined or partied at Hi-Fi before, you know how eccentric and electrifying our restaurant and bar can be. If you have yet to discover this unique Scottsdale gem, we'll try to use this blog to try to fill you in, although you should visit Hi-Fi Kitchen and Cocktails yourself. 
About Hi-Fi Kitchen & Cocktails
Hi-Fi is a restaurant, bar, and nightclub centered around music. What sounds better than that? How about our food and cocktail menus that are served late into the night? You see, Hi-Fi combines the things you love; music, good eats, and cocktails, creating the ultimate Scottsdale experience. If that's not enough to convince you, check out some of these specs. 
A Killer Kitchen
If you're looking for a Scottsdale restaurant with something for everyone, look no further than Hi-Fi. Munchies like fried pickles and loaded potato skins, sandwiches and burgers, salads, and the best wings in Scottsdale are served late into the night. To add the icing on the cake, we also offer one of the best brunches around with penny refill bloody marys and mimosas!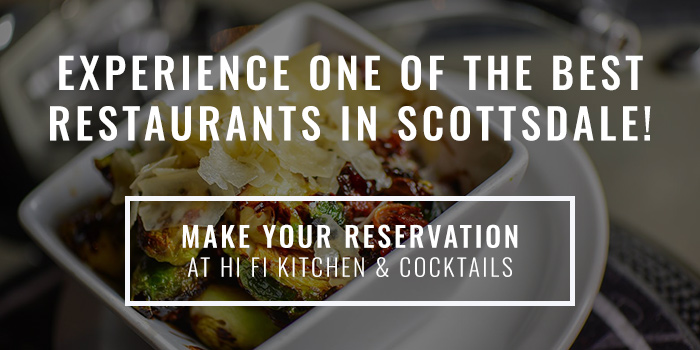 Crafty Cocktails
Hi-Fi has a 360-degree island bar where you can find over 20 beers on draft, and an extensive list of cocktails. Craving something a little sweeter? Adult milkshakes are our specialty. Don't miss out on our happy hour specials, either. 
A Music-Centric Atmosphere
In addition to great eats and drinks, Hi-Fi offers a unique and visually appealing atmosphere unlike any other restaurant in Scottsdale. From the vintage speaker wall elevated with wood-framed speakers and throwback black and white televisions to the 45-foot digital graffiti wall that projects an ever-changing array of 3D images and black-light sensitive art installations, not to mention the music, Hi-Fi offers an audio/visual atmosphere like no other.
Sports Hub
Hi-Fi is one of the best places to go on gameday. With over 30 televisions and three 20 foot projection screen televisions throughout our restaurant and bar, there is not a bad seat in the house. Looking to watch the football game of Saturday or Sunday? We'll have it on! We're also the best place to watch the Iowa Hawkeyes in Scottsdale. Wondering where you can watch the UFC fight? We are one of the only UFC bars in the area!
Electrifying Nightlife
Hi-Fi gives Scottsdale nightlife a whole new meaning. We host numerous events at our nightclub and offers VIP services for those looking for a fun night. Live artists and bands, great DJs, and drinks pouring throughout the night is one of the many reasons Hi-Fi needs to be your weekend destination.
There are a lot of specs that Hi-Fi Kitchen & Cocktails offers, which is why we are one of the most popular destinations in the Entertainment District. To make reservations, contact us today!