There's Something In The Water Here
Adventure. Adventure is what is in the water here in Scottsdale. Thanks for checking out Hi Fi Bar Scottsdale's list of most incredible things to do in and around the city of Scottsdale! Of course, your central hub should be none other than Hi Fi Kitchen & Cocktails, right in the heart of downtown Scottsdale. You need to stop in here to fuel up on the tastiest sandwiches and wings, and perhaps down a mug of liquid courage, then proceed to experience the coolest things that Scottsdale has to offer. Like this!
Fly Through the Air With the Greatest of Ease!
Find out what it's like on the flying trapeze! With no prior experience or running away from home to join the circus required, you can fling yourself through the air with little concern for harm coming to life and limb with Trapezius Flying Trapeze, an outdoor recreational flying trapeze and circus arts school. Kids as young as 4 (and with cajones of steel) can learn to become trapeze artists with the guidance and help of trained professionals. If you're not feeling up to the task of chucking your buddies through the air, Trapezius also offers occasional and complimentary performances! Check out their website here and consider if you have what it takes to be a trapeze performer. If you're too chicken, that's okay — you can come back here to Hi Fi and we'll fix you up some chicken wings. You'll feel better, and we won't judge you for the fact that apparently 4 year olds are successfully trapeze-swinging and you aren't. 
Expand Your Mind, Man.
Open your mind to interesting facts and information about the great city of Scottsdale by going on a tour! Not just any tour, my friends, no. Go on a tour with Phoenix Rising Tours. Grab a bite to eat at Hi Fi, then gear up for an exciting and informative tour around Scottsdale, highlighting historic districts, museums, dining (hey! That's us!), pleasant vistas, and various other points of interest. Get to know this city from the experts, and increase the likelihood that you'll ace any questions about Scottsdale if you're ever on Jeopardy.  You can look forward to visiting areas around town like the Arizona State Capitol, Heritage Square, Old Town Scottsdale, Papago Park & Desert Botanical Garden, Arizona State University, and a whole bunch more! Take a gander at phxtours.com for more information and to know where to be when a tour group starts up. Don't forget to end your evening with the best nightlife spot in Scottsdale — Hi Fi Kitchen & Cocktails!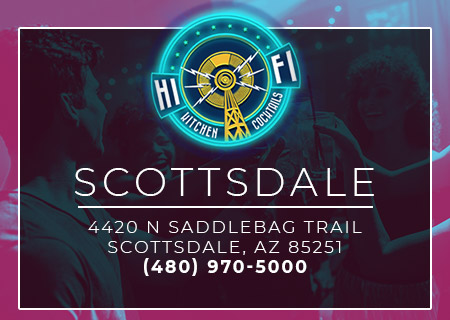 Live Your Western Fantasy
Not that fantasy. Geez, dude. Although now that you mention it, we're kind of interested. We're getting off topic — Scottsdale has a way for you to live out your Wild West dreams at MacDonald's Ranch! No, it's not a western-themed McDonalds. MacDonald's Ranch is over 1200 acres of Sonoran desert, perfect for horseback riding and adventure! You can ride in a stagecoach! You can ride a horse with a guide and start shouting "yippie-kay-yay" and "yee-haw" and whatever else cowboy hollerin' you can imagine! In all seriousness, MacDonald's Ranch has seasoned trail veterans that can guide you and your friends and family through a fun-filled day of Western adventure, all while making sure you're safe and taken care of. If you have little kiddos, MacDonald's has a petting zoo, free pony rides (!) and a gem mine! So what are you waiting for? Go become John Marston for an afternoon, then circle the wagons back to Hi Fi Kitchen & Cocktails before singin' them coyotes to sleep. Check out their site here, and go enjoy yourself and this amazing aspect of our local heritage!
Off the Beaten Path
Do you ever just wish that you could take a hard left and just cruise your little Honda Civic out into the desert? That's just me? Oh. Okay, so you're responsible and want to go off-roading in a responsible, safe way. Then you need to talk to the guys over at Off-Road Jeep Adventures! They have two intensity levels: Regular and Extra Crispy. There is a "Classic" Jeep tour, where you can ooh and ahh at the desert scenery, which is nice for groups and families to enjoy. However, if you're looking to up the ante a bit, then you need to go for the Extreme Off-Road Tour. You'll get buckled into upgrade Jeep Wranglers and drive through (and over) steep slopes, narrow passages, and unrelenting desert terrain. You can even take part in night-time excursions, complete with night-vision goggles! Rad! Visit Off-Road Jeep Adventures here, then stop in at Hi Fi and let us know how it went.
You'll Float Too
Face your fears in the most picturesque way imaginable! If you think our beautiful desert landscape looks good from the standard pedestrian vantage point, just wait until you see it while suspended from a giant balloon floating  hundreds of feet in the air! Phoenix's Rainbow Ryders Hot Air Balloon Company has been delighting locals and tourists alike for almost 40 years. Watching the sun rise or set will shock you because of its beauty. Once you land, you're also treated to mimosas and champagne (to take the edge off, I imagine.) If taking to the skies is on your bucket list, there is no better way to cross it off than with Rainbow Ryders. Come show us pictures of your excursion at Hi Fi bar afterwards! Some of us are scared of heights and want to live vicariously through your experience. 
We're Just Getting Started
This is just the beginning of all of the amazing things you can do in and around Scottsdale. Most importantly, however, is that you visit your friends at Hi Fi Kitchen & Cocktails and tell us all about the fun things you've discovered! We'll give you some more ideas for fun activities around town soon, so check back, but until then, we can't wait to see you, pour some cold ones, watch the game on our 30+ HDTVs, and rock the night away. Visit our Scottsdale location soon!