When you have the urge to visit night clubs in Scottsdale, there surely are plenty of options to choose from. Scottsdale offers the widest range of exciting things to do in Scottsdale and the very best in food, drink, dance clubs, music and entertainment to make for a thrilling night on the town. However, HiFi Kitchen & Cocktails is setting the bar high for Scottsdale nightlife. With its collaborative and synergistic vibe, great music, and a top-notch cocktail list that packs a punch, HiFi Kitchen & Cocktails is a breath of fresh air that other Scottsdale nightclubs simply cannot match. 
HiFi – Redefining Nightlife in Scottsdale
Let's set the record straight. HiFi is not your typical nightclub. We are a music-centric restaurant and bar by day and a vibrant nightclub by night. The drinks, food, and music are enough to keep you going all night long. Let's take a look at what makes HiFi one of the best spots for nightlife in Scottsdale. 
THE VIBE
When choosing a bar during a night out, many people weigh the vibe of potential locations to make their decision. HiFi creates a harmonious, but fun, atmosphere with music, style, and cocktails. From the vintage speaker wall elevated with wood-framed speakers and throwback black and white televisions to the 45-foot digital graffiti wall that projects an ever-changing array of 3D images and black-light sensitive art installations the vibe and atmosphere is unlike any other nightclub in Scottsdale. As the night goes on, and after a few beverages, you'll start to feel your mood ebb and flow with the color of the atmospheric art. 
THE MUSIC
Good music is essential for a great night out, and HiFi is always cranking the best tunes throughout the night. HiFi's blend of indie, classics, synth-rock and hip hop ensures there is not a bad track played all night. If you're lucky, you may even catch live artists, bands and some of the best DJs in the area!
THE DRINKS
If you are planning on staying out late into the night, you'll definitely need the right drinks to keep you going. In addition to tons of draft beers, HiFi offers an extensive list of shots, cocktails, and other adult beverages that are sure to make your night out a little more enjoyable. HiFi offers a lot of unique cocktails that you cannot find anywhere else in Old Town. Take the EFFEN Press, for example. Made with EFFEN raspberry and green apple, muddled raspberries and a splash of lemon-lime soda and soda water, this cocktail is ultra-refreshing. Need a little energy boost? Try a SparkPlug, made with Patrón XO Cafe, Carolans Irish Cream, and cold brew coffee to get the energy you need for a long night out. Want something a little more sophisticated? Keep it classic with a Knob Creek Old Fashion, made with Knob Creek Whiskey, cherry bitters, and garnished with an orange peel. 
Whatever your go-to drink is, rest assured the bartenders at HiFi can make it. However, we definitely recommend trying some of the unique cocktail creations that we offer here. Nights out are meant for you to connect with new people, and it makes it even better that it's over whimsical cocktails. 
DELICIOUS FOOD 
Here's the thing about some nightclubs; you simply cannot trust their selection of food. Your night out is meant to be enjoyable, and microwave nachos are not going to benefit your cause. At HiFi, since we are a restaurant by day, we offer a large selection of delicious munchies that are served late into the night. You no longer have to worry about leaving the party to go find food—HiFi has it all!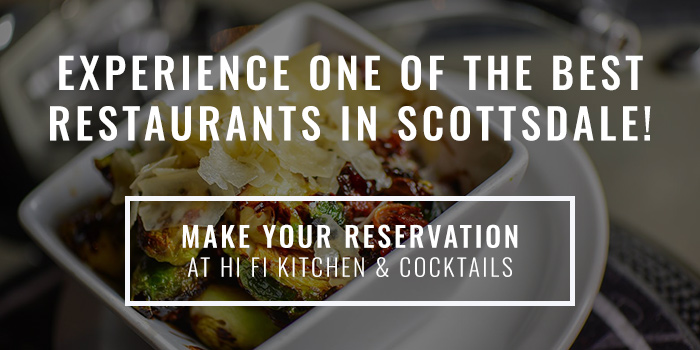 ENERGIZING EVENTS
One of the best ways to enjoy the night is to go to an event, and HiFi always has the areas hottest night outings in the area. From live concerts, celebrity appearances, and DJs to holiday party celebrations, there is always something fun going on at our Scottsdale nightclub. Want to make it even better? Get VIP bottle service to keep the drinks flowing late into the night!
The vibe, drinks, food, and events are just a few of the factors that make HiFi one of the best spots for nightlife in Scottsdale. If you are interested in learning more about our events or making reservations, contact us today!