When going to a game or sporting event isn't possible and your home lacks an energetic atmosphere, a refrigerator full of cold ones, and maybe even pay-per-view television, going to a sports bar is your best option. When choosing a sports bar in Scottsdale, there are many qualities you should look for to create the ultimate experience. 
Whether you are looking for a UFC bar to watch the exclusive fight or a place to watch your favorite teams play while enjoying the game with other fans, keep in mind the following qualities that we, at HiFi Kitchen & Cocktails, believe make for the best sports bar experience.
Tons of Televisions
Watching the game on the big screen is great, but there's nothing better than having a game or sporting event on every television around you. When choosing a place to watch the game, make sure to choose a spot that has TVs that you can actually watch. Not only will you be able to watch your favorite team play, but you'll likely be able to keep up to date with other games going on at the same time! 
At Hi-Fi Kitchen & Cocktails, in addition to three full-wall projection televisions, we have 30TVs spread throughout our bar and restaurant. This ensures that there is not a bad seat in the house. 
Your Favorite Teams
Before going any further, you want to make sure that the sports bar you choose will have your favorite teams on. Sure, you can still enjoy the food, drinks, and other games on, but the whole point of a sports bar is the sports, especially if the team you are rooting for is in another time zone. 
In addition to being the only official UFC bar in the area where every fight can be watched, Hi-Fi Kitchen & Cocktails is the place to watch Iowa Hawkeye games in Scottsdale! We also have every NFL game on Sunday and Monday, basketball, baseball, the list goes on. If the event you want to watch isn't on one of our 33 televisions, we'll make sure to put it on for you!
Great Food
Unlike the expensive stadium hot dogs or frozen burritos at home, the sports bar you choose should have quality eats! With great food, games are far more enjoyable! There is really no need to compromise on the type of food available at a sports bar. While burgers and fries can be great, sometimes it's nice to look for options you can't find at the stadium or in your freezer. Wings, fried pickles, sliders — there are tons of munchies that pair well sports!
Hi-Fi Kitchen & Cocktails offers a wide selection of munchies and food to satisfy your mid-game cravings. With great appetizers, burgers, sandwiches, and the best wings in Scottsdale, you'll find great options that can't be found at home or at the stadium.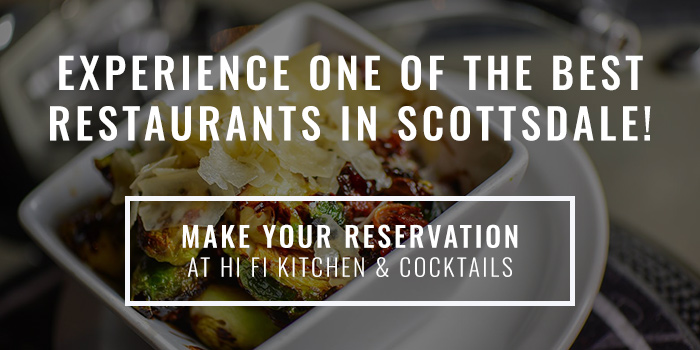 Great Drinks
Do you enjoy watching the big fight or your favorite team with a frosty brew or hand-crafted cocktail in hand? When choosing a sports bar to watch the game, it is vital to ensure that, in addition to having the game or event you want to watch, you find a bar that serves up the best cocktails and beer selections in the area. 
Our Scottsdale sports bar is well known for our extensive drink menu. With over 20 beers on draft, a large selection of crafty cocktails, and boozy adult milkshakes, we a seemingly endless amount of options you can enjoy while watching the game!
Energetic Atmosphere
The sports bar atmosphere has a significant impact on your game-watching experience. Even if all of the qualities above are above standard, if the atmosphere is not enjoyable, you won't be comfortable rooting for your team. Look for sports bars with like-minded fans for a more enjoyable game-watching experience!
Hi-Fi offers a great sports bar experience that people from all different fan bases enjoy. With all the qualities above, Hi-Fi offers an atmosphere and game-watching experience like no other Scottsdale sports bar. 
As you can see, there is not a better place in Scottsdale to watch your favorite team play than Hi-Fi Kitchen & Cocktails. To learn more about our sports bar or to make a reservation, contact Hi-Fi Scottsdale today!