When it comes to bottomless mimosas in Scottsdale, Arizona, HiFi Kitchen and Cocktails serves up the best brunch-popular beverage that you will ever have! The sweet, tangy, fresh-squeezed orange juice with a delicious champagne pairs perfectly with our delicious brunch options. 
While we all know that mimosas give us a reason to rise for a weekend morning brunch, many people are unaware of where the mimosa actually came from. Because HiFi bottomless mimosas are a hit, we figured we'd use today's post to share knowledge for you to sip on. Continue reading as we explore the history of the mimosa. 
The History of The Mimosa
Just like all famous cocktails, we aren't one-hundred percent sure where the cocktail consisting of champagne and orange juice originated, but there are plenty of tales and stories that assert the creation of the beverage. While we aren't sure which is true, we'll share some of the origin stories that we find to be most believable. 
London's Buck's Club 
There are some people that believe that the mimosa was created in the early 1920s at Buck's Club in London. What brought the drink into creation? Well, legend states that the cocktail was created solely to give the lads of London an excuse to begin drinking before lunchtime. The original drink, coined as the Buck's Fizz, that inspired what the mimosa is today was said to include other unknown ingredients and wasn't an item that could be seen on a menu. Of course, though, the two ingredients anchoring the beverage were champagne and orange juice. 
Frank Meier
One of the most popular origin stories of the mimosa goes back to the Ritz Bar in Paris in 1925. Bartender Frank Meier. However, many also acknowledge the competing claim of the Buck's Fizz, which hit London's Buck's Club around the same time. In reality, Frank Meier likely did not create the mimosa, even though his 1934 cocktail book The Artistry Of Mixing Drinks includes the mimosa among its 300 cocktail recipes. The book reads as follows: "In a large wine glass: a piece of Ice, the juice of one-half orange; fill with Champagne stir and serve." The thing is, though, in his book, Meier put a symbol next to the cocktails he invented, and there is no symbol next to the mimosa recipe. 
French Royalty
Even queens enjoy the OJ-and-Champagne combo. The 'champagne-orange' was a popular combination that was often served in French wine country and was believed to be picked and rechristened with fancier names by the city bars and pubs. The drink had been introduced to the Queen by Earl Mountbatten of Burma after visiting the south of France. After that, it wasn't long before the drink made its way into big country houses, where the Queen and members of the royal family sometimes stay at weekend!
Transforming Into A Weekend Brunch Staple
The mimosa cocktails, while it is one of the most popular brunch cocktails today, it wasn't always that way. In fact, even though weekend brunch had been around for decades, most restaurant brunch menu had bloody marys as the top cocktail. Eventually, though, an Irish pub in Rockefeller Center was serving patrons' with the fancy champagne orange — yes, the classic French combination of Champagne and orange juice.
The name champagne orange never really caught in the United States, though. Why? Alfred Hitchcock may have something to do with it. In May of 1966, during an interview with the London Express at the Claridge Hotel, a reporter found Hitchcock "in fine form, drinking mimosas (Champagne and orange juice) and smoking an eight-inch cigar." When visiting New York later that year, Hitchcock was noted to be wearing "his customary suit of midnight blue" and "paused to serve mimosa cocktails, a mixture of Champagne and fresh orange juice."
Becoming Bottomless
Before long, mimosas were popping up on every brunch menu in restaurants all across the country. And what is better than a refreshing cocktail in the morning? How about making them bottomless. Yes, many restaurants across the country, including HiFi Kitchen & Cocktails have adopted bottomless mimosas. This allows you to tip back as many mimosas as you wish during brunch. Doesn't sound too bad, right?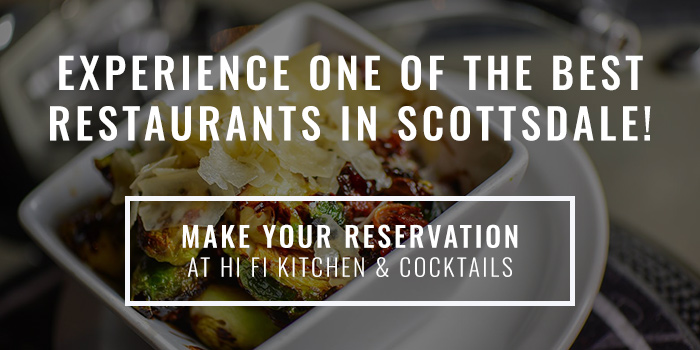 If you want bottomless mimosas in Scottsdale or Tucson, head to HiFi Kitchen & Cocktails. For just a penny per refill, you can start your weekend morning with a kick! Our Keep 'Em Comin' mimosas are only $15 with an entree ($20 without). To learn more, contact us!